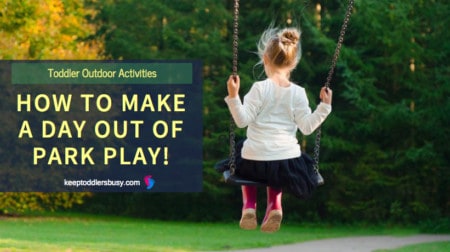 Toddler Outdoor Activities: 8 Tips for A Great Day of Park Play
---
Ahhh Summer is here. Long days, warm weather, sundresses, cookouts, baby and toddler outdoor activities in full swing, and last but not least, Popsicles. Sounds amazing right??
Sure, for a lot of people, including myself. But on the flip side, for someone like me who is at home with a 16 month old and 3 year old, summers can also mean closed activities and classes, constant sweating due to running after the kids all day, and the ever present toddler's need to be out of the house at all times. (not quite a bad thing I guess lol).
So I want to talk one of my favorite activities when it comes to entertaining my child for an extended period of time.
One of the most important tips I have learned from living life with my two little people is that sometimes a change in scenery can make a world of a difference when it comes to having a happy child. Keeping a sufficient focus on outdoor activities  has truly been a life saver for me in so many cases.
Often times I can start to recognize signs of an impending need to get out of the house ASAP.
–
                                                    Images Sarah Titus
–
I actually believe there is somewhat of a universal feeling we get when we get ourselves outside and into the elements. Why? Because I have personally experienced this change of attitude in not only my children, but myself as well. Just to get out of the apartment and into the outdoors makes us both happier, more cheerful.
–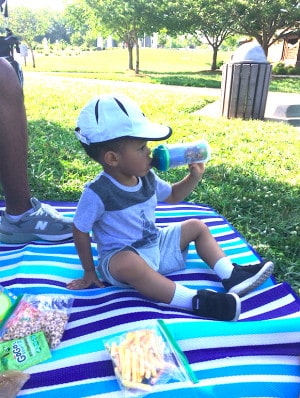 –
Normally, I would only last about an hour on a trip to the park until I'm soo past ready to go LOL.

So after realizing that getting outside often was somewhat therapeutic for my kids, I started thinking of ways to not only get them outside, but to make the fun last longer for everyone. Often that just means being prepared so I can relax a little 🙂
That's when I started thinking of an idea that lead me to writing this post.  The idea of a picnic isn't exactly a new invention, but making sure I come fully prepared for at least half a day with my kids at the park was definitely new to me! Here's a checklist of the supplies I used for one of my favorite outings for my children.
–
–
8 Tips for Seamless Toddler Outdoor Activities

–
–
We hope you like the products we recommend. Just so you are aware, Keep Toddlers Busy may collect a share of sales from the links on this page. As an Amazon Associate I earn from qualifying purchases. Read more about our links in my disclosure policy.
–
1. "Beach Mat/ Playground Mat"



–
This is probably one of my most used outdoor supplies. It doesn't have to be a beach mat per se, just a mat thick enough so that grass and rocks won't come through. My son especially needs this because he has a grass sensitivity, so laying on the grass for an extended period of time isn't really preferable for him. I absolutely LOVE this mat.
–
2. Fun Outside Supplies

–
Books, or IPads with a durable  IPad Cover, coloring book and crayons, etc.
This tip is customizable lol. You can bring anything that entertains your child while they are SITTING DOWN 🙂 It's awesome when we are at the park and we can get a few minutes of rest time with a book in the fresh air. (Hey if your child is going to look at the IPad or reading a book it mind as well be outside LOL).  This is essential because the key to staying out without having a cranky kid is allowing them time to sit down and get some rest so that they can recharge and then YOU CAN TOO.
–
3. Snacks and/or Lunch
–
Many parents and caregivers who are visiting this page are most likely dealing with toddlers who take a nap starting anywhere from 11:30am to 1:30pm. My toddler and preschooler start their nap at 12:30 pm  and 1pm, so they eat lunch faithfully at no later than 12:00pm. This simply means that bringing lunch, or at least a snack, is a must. I know this is a no brainer but I had to include it. Drinks and snacks are clearly essential for both hungry children and fussy children! Don't forget to also bring water and snacks for yourself, just saying.

–
4. First aide supplies
–
A child getting hurt can be one way to end a day at the playground fast! I have seen it over and over again. So to offset that
possibility, coming prepared with your first aide kit with band-aids, Neosporin, Tylenol, anti-bacterial wipes, Orajel, wraps, or whatever else you feel like you want to have at your disposal is another must.
–
5. Folding Lawn Chairs
–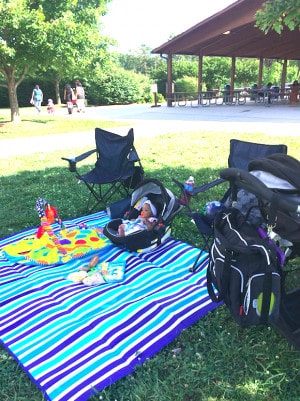 This item is for us. By "us" I mean us Adults. I am perfectly happy and capable of
sitting on the mat with my son for a while, especially so that we can play together and generally have some bonding time. But at some point I just need to sit in an adult chair lol. Not a necessity but definitely worth it.
–
6. Change of clothes
–
This one is self explanatory. Restroom accidents, spills, water, mud, dirt, etc. This should not send you home. I keep a change of clothes in the car at all times so I don't even have to remember to bring them.
–
7. Diapers, pull-ups, and Wipes
–
If your child is not yet potty trained, you probably already know that extras are essential.
–
8. Others Toys
–
This one is optional. If your toddler tends to get tired of the swings or you getting tired of pushing :), bringing an extra ball, Frisbee, or any other small toy your toddler enjoys can extend your stay. It may not be necessary but I like to cover my bases.
–
–
My son taking a rest outside. Try making regular play times in the great outdoors. Being in wide opening spaces will allow your child to release energy and explore nature's endless possibilities.
If you are like me and juggling a the needs of multiple kids all while attempting to keep them fed
–
and happy, you will always appreciate finding a fun and easy way to entertain your children while giving them some fresh air. The back yard is great but sometimes your child just needs a change of scenery. That's where the beach/picnic mat comes into play.  Next time you are thinking of how to spend the day, give this a try!
For other tips on being out of the house with your toddlers, check out my review post on traveling and road trips!
Also remember to always stay safe! Check out some great tips for keeping your children safe at the park Here!
Park images by Sarah Titus
–
Bonus
It turns out I'm not the only one that has tips. Check out this video for more picnic tips below.
–
–
How do you spend time with your toddler outside? Let me know in the comments below!
–