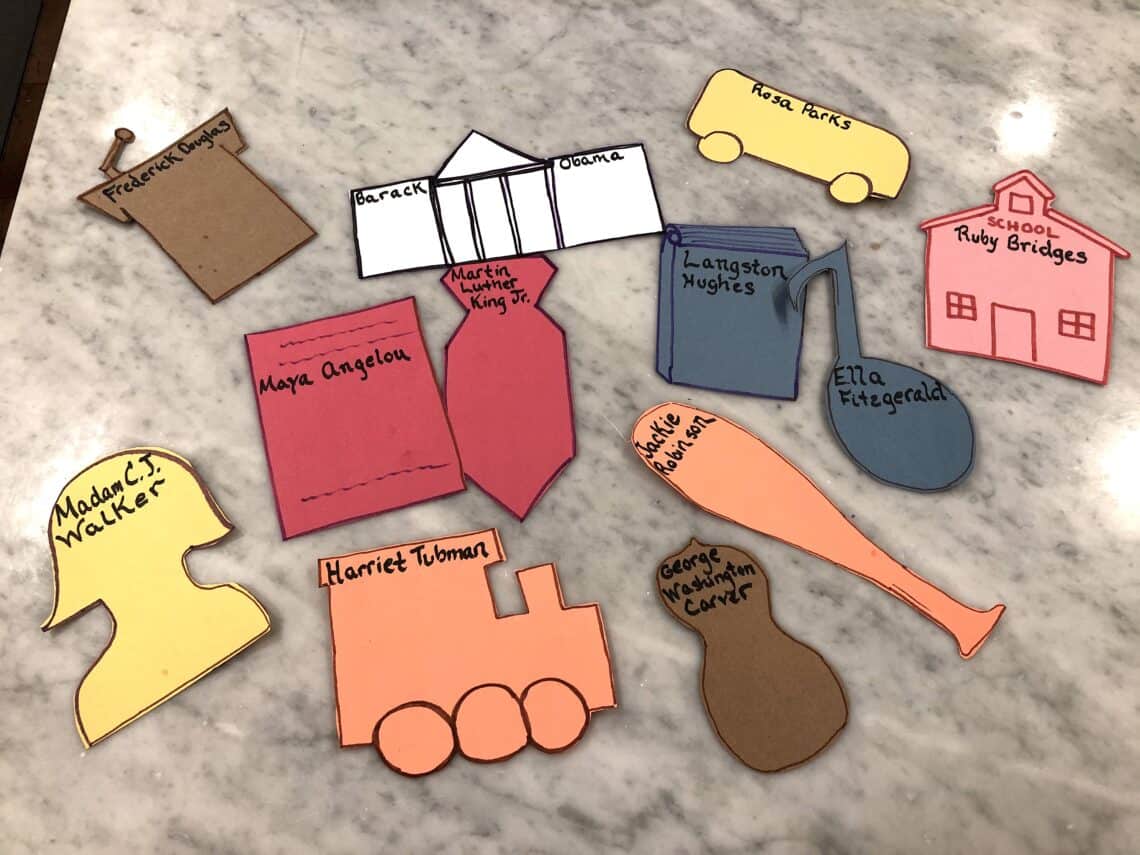 Black History Month Activities For Kids: Fun Shape Facts
---
It's officially black history month and we are excited to share some of the fun ways that we celebrate the history of African Americans in North America! This is one of my all time favorite months and it's always busy and worth celebrating every part of it!!
Fun shape facts are a great way to incorporate black history month activities for kids.

This great activity can be completed along with the kids and you can use contact paper to display it for the remainder of the month. It takes practice for our kids to learn some important history that is not necessarily focused on at school. (Except this month)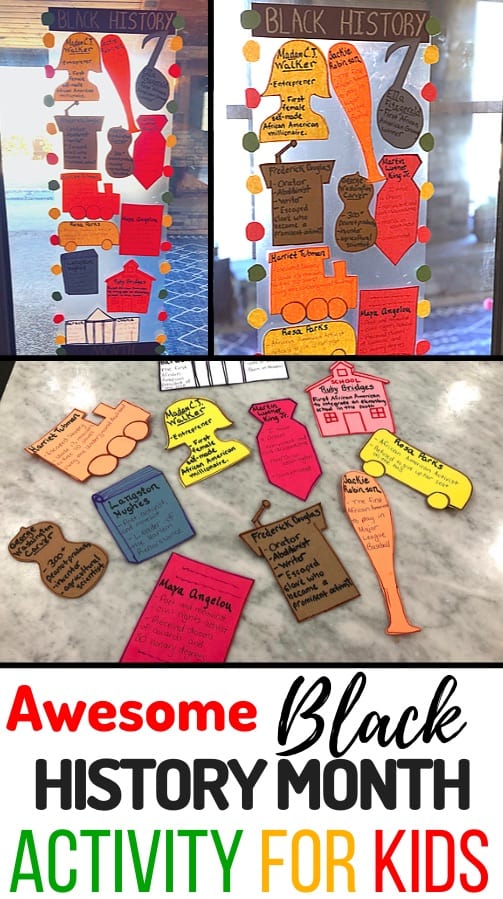 We took a break from our usual sight word contact paper chart this month and it turned out great!

The SHAPES help to associate an image or idea with each name and the kids had a great time helping me put it together. If you would like some more amazing black history month ideas for kids, check out Happy Toddler Playtime!
Black History Month Craft
Materials
The Materials were super fun for the African American history activity and the outcome was so adorable! It looked so good that we decided to keep it up and continue to learn from it.
Con-Tact clear adhesive paper or clear adhesive liner ( this is what I used, bought from Walmart pickup :))
Construction Paper. I usually buy three or four bundles at a time because they can be used for sooo many things.
3. Pom Poms, small buttons, Stickers, or whatever extra material you like if you want to add extra decoration.
4. Stick glue, marker, and scotch tape
5. Scissors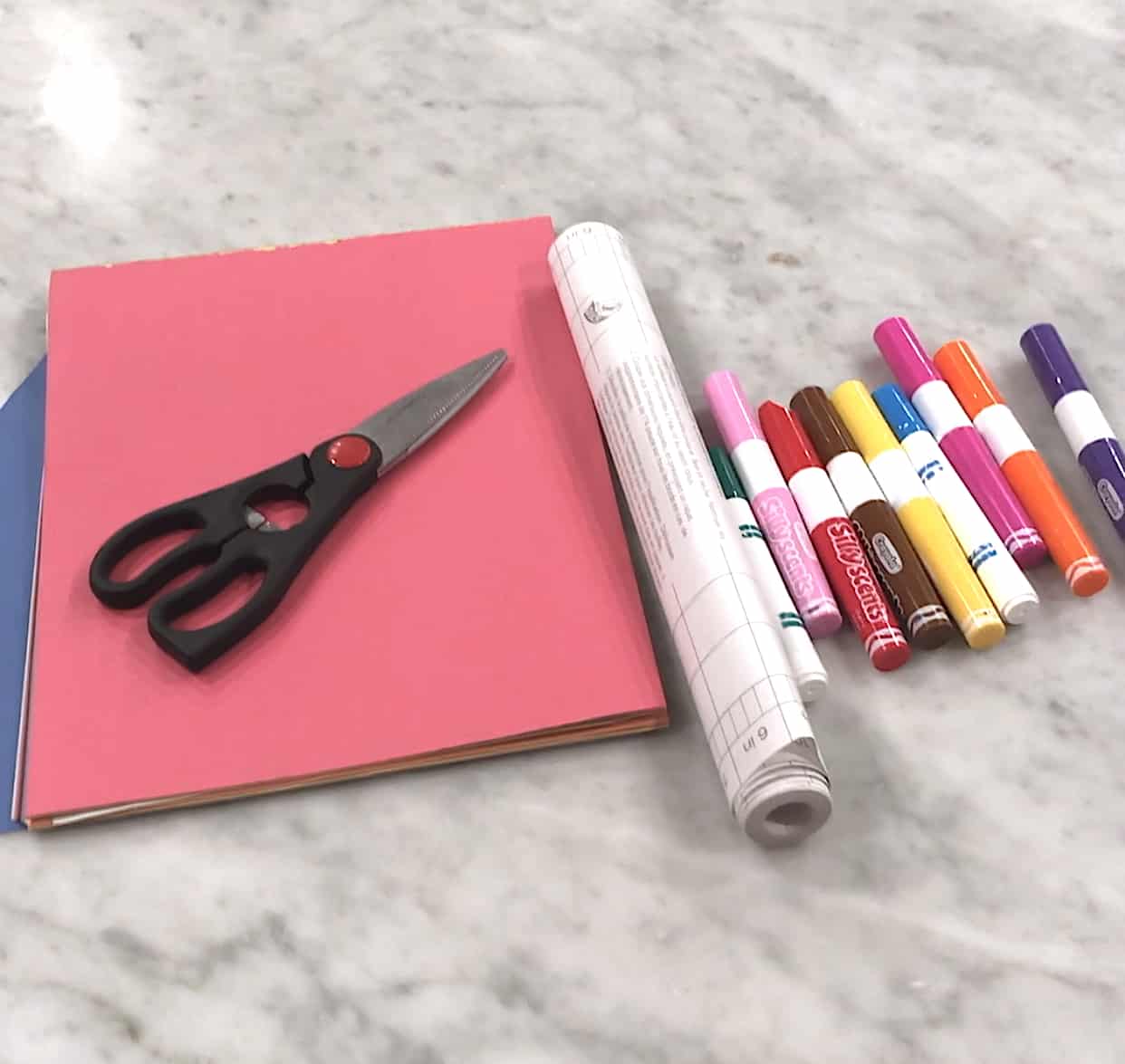 Keep Toddlers Busy is a participant in the Amazon Services LLC Associates Program, an affiliate advertising program. As an Amazon Associate, I earn from qualifying purchases. Read more about these links in my disclosure policy.
Preparation (25 minutes)
I prepared ta part of this activity ahead of time while the kids sleeping and then let them help me put it together.
First start by getting your list of people you wish to highlight for the project. Write it down so you can check of the names. Also decide what your shape will be for each person.
Draw out your shapes!
Next cut out all of the circles and rectangles for the border. Fold the construction paper multiple times so you can cut multiple multi-colored buttons at one time.
I then cut out the shapes and wrote the names and a few simple facts on the shape!
Now we grab the contact paper. Cut a portion that is large enough to add your desired amount of shapes.
Next, peel the edges of the contact paper down to expose the sticky side. Attach some scotch tape to the paper with the sticky side up and tape it to the wall or door around the edges of the sheet.
Next decorate the top and bottom of the adhesive paper as well.
Your little one will then be able to add the black history shapes to the contact paper.
And there you have it! Take a look below!
I hope you enjoyed this black history month activity for kids! Please comment below and let me know some activities that keep your kids entertained and learning new things this month! I would love to see some additional ideas.
Also check out my posts on great learning boards and also a preschool learning activity for more fun early learning ideas!
Also, remember to sign up for your FREE weekly activities planner on the top or the right side of the page and check out my printables page.
I've been an activity mom for almost 9 years and have over 15 years of experience crafting, writing, and creating. My mission is to bring fun, balance and learning to your busy homes with activities, tips, inspiration, and organization!