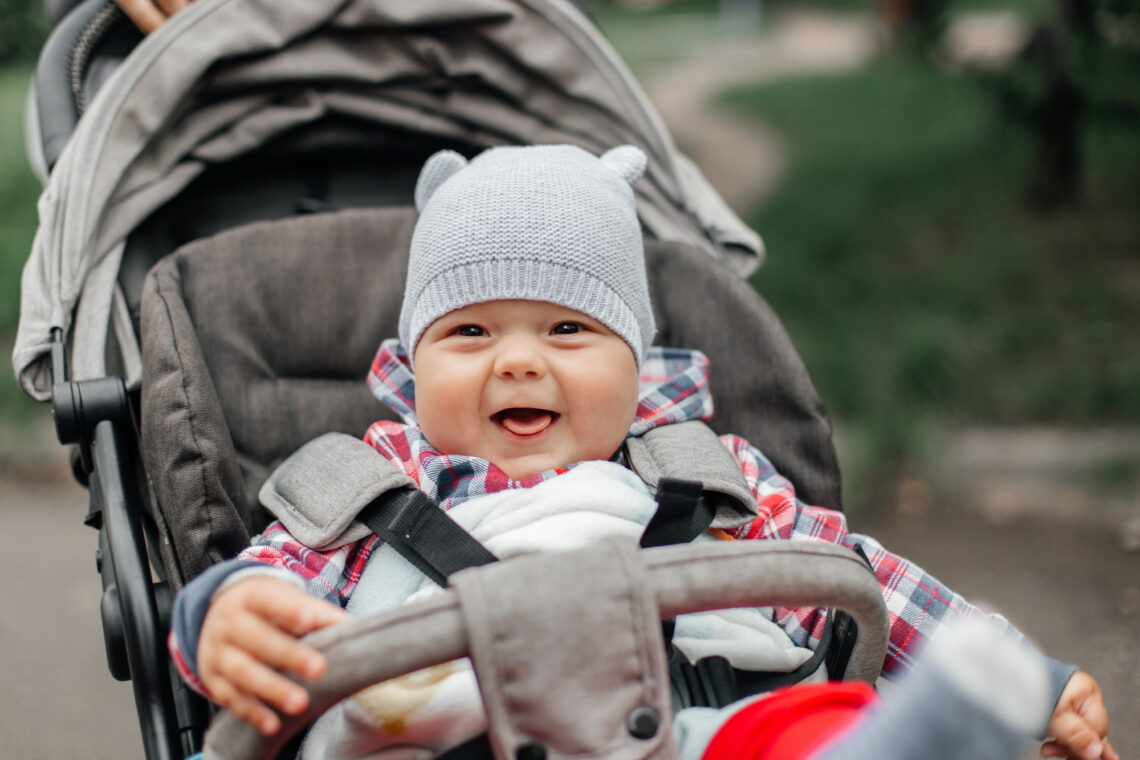 How To Prepare For Baby's First Day Out
I'm so excited to talk about preparing for your baby's first day out today! I had a long day out with my three kids yesterday and I just thought it would be a fun idea to share some of the tips I've learned in the past.
Bringing your baby home for the first time is a special moment for any parent, but I know that it can also be terrifying lol. Every little step is a new experience, and even taking your little one for their first day out can be a nerve-wracking experience.
So I am here to give you the 411 on all necessary aspects and take some of the guessing away.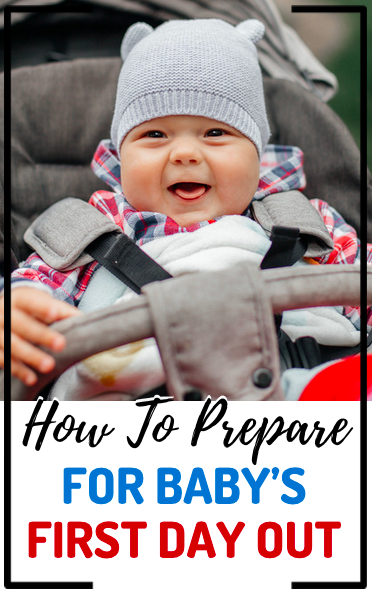 There are several things to consider before stepping out with your newborn- from their safety to comfort and even practicality. 
So, as you take your baby out for the first time, my advice is not to worry about every little thing, just make sure you have the basic essentials. Baby will be okay 🙂
Aside from packing a compact pram and bringing a diaper bag, I have included a few things to put on your list as well as some tips to keep in mind:
Prepare Your Baby Bag
A pro tip every parent should know is never to leave your home without a baby bag. Typically, a baby bag includes everything you and your little one need while spending time outside. It can save you from poop accidents and even help you soothe your crying child.
As a good start, your baby bag should have the following items inside:
Diapers: Whether going out for hours or even for a quick walk, you should always bring extra diapers in your bag. Generally, your baby should change their diapers every two to three hours. And even if you plan to make your trip shorter, accidents could happen. So, having extra diapers is convenient, allowing you to change your baby anywhere.
Wipes: You'll need to wipe your baby clean as you change their nappies. And since bringing wet cotton balls can be inconvenient, you can use wipes instead. Wipes can also come in handy in case of a mess. You can easily wipe your baby clean from their face to their toes.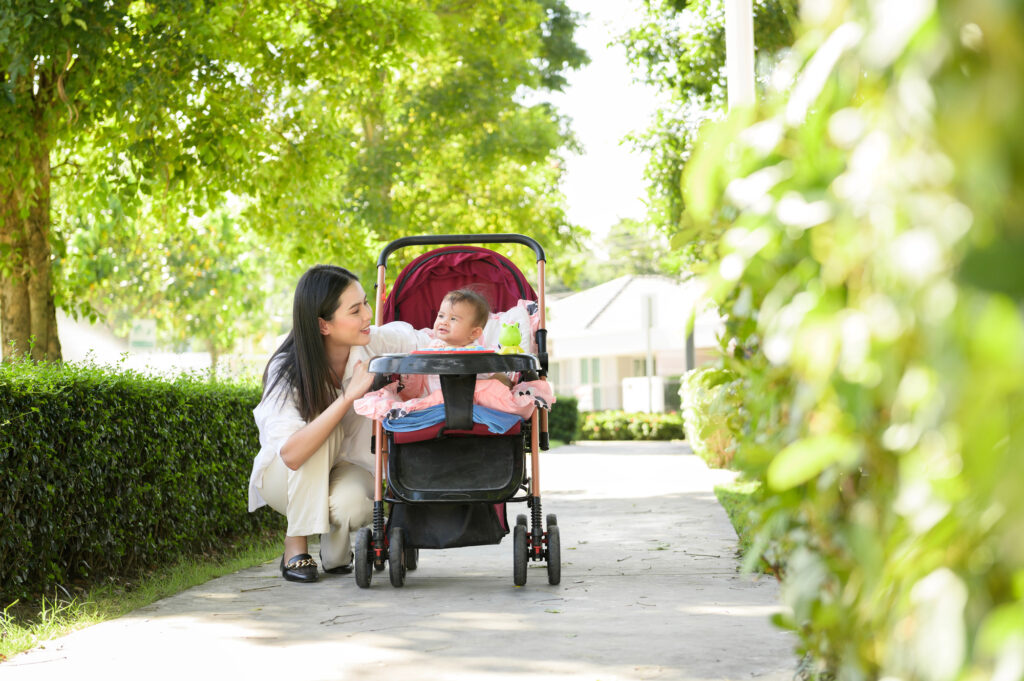 Extra clothing: Depending on how long you will be out, you may need to change your baby's clothes. Whether they had a poop accident or their clothes got dirty, they'll need fresh, clean clothes. Ideally, you should bring at least two sets of extra clothing or infant gowns for your baby. You can also get extra clothing that fits a colder or warmer climate to keep your baby comfortable. 
Breastfeeding cover or bottles: Your baby could get hungry while you're outside. So, bringing a breastfeeding cover can give you and your child some privacy if you're breastfeeding. Alternatively, you can always feed by the bottle using expressed milk or formula. Usually, babies drink milk every two to three hours, so it'd be good to prepare enough milk to accommodate your entire day outdoors.
Burp cloth: After feeding your baby, you'll be helping them burp to relieve gas and reduce the chance of them spitting up. You can place a burp cloth over your shoulder as part of your feeding routine. It can help keep you and your baby keep while burping.
Preparing your baby bag lets you easily pull out everything your baby needs. It goes a long way in making your trip more convenient and comfortable.
Bring A Stroller
Bringing a stroller can help make your baby's day more comfortable. You can let your baby lie comfortably on it while strolling around. A compact stroller is best if you're still shopping for baby items. With a compact stroller, you can fold and store them inside your trunk without occupying too much space. You also can dine indoors without worrying if it's hogging the area of the restaurant.
Prepare For The Weather
As part of preparing for your baby's first day out, you should know the weather first. Ideally, the weather should be sunny and not cold or warm. However, if you must bring your baby out regardless of the weather, dress your baby well. You can bring extra blankets and jackets for the winter and carry a portable fan during the summer.
Leave When Your Baby Is Full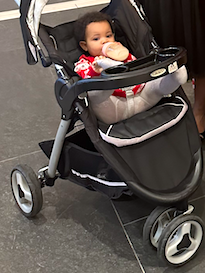 Whether going out to take a quick walk in the park or planning to stay outdoors for a few more hours, a good time to leave home is when your baby is full.
Leaving the house with a hungry baby can be grumpy and uncomfortable throughout the day. To avoid the hassle, consider feeding your baby before leaving home.
Or make sure you have plenty of food. As shown in this picture, my daughters favorite pass time is stroller snacks 🙂
Avoid Crowded Area
A baby's immune system is generally weak, especially during the first few months. So, as much as possible, avoid going to crowded areas to protect your baby from catching illnesses. You can visit a park when there are fewer people or visit a crowd-controlled place.
On the other hand, covering your baby with a breathable blanket over their car seat or pram can be helpful. It can provide enough coverage and protection to your baby while outdoors.
Pack For Yourself
Messy accidents can happen. In such cases, much like your little one, you may also need to change clothing. For convenience, it'd be best to bring an extra set of clothing. You can pack them with your baby bag or in your car.
Bringing your little one out for the first time is a special milestone for your baby. And with good planning and preparation, you make this a more memorable moment since you can ensure your baby feels comfortable throughout the day. As a good start, pack your bag, bring your stroller, time your travel, and let yourself and your baby enjoy your first day out worry-free.