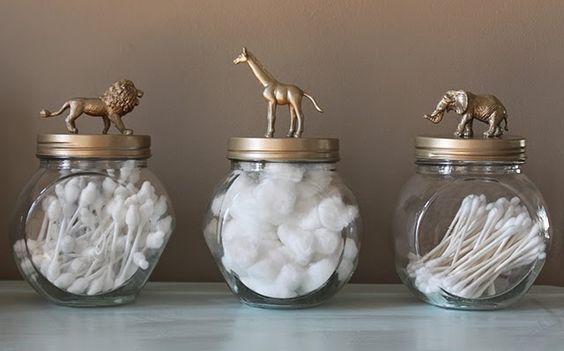 50 Clever Kid's Bathroom Ideas To Organize The Chaos
---
Hi Everyone!
Today I wanted to take some time to talk about kid's bathroom ideas to organize the chaos that we all experience as parents and caregivers at some point in time. Most of what you will see here at Keep Toddlers Busy is activities for toddlers, preschool and even beyond, but parenting involves so much more and I can't help myself! So I love to talk about tips and home life (including storage and decor) as well.
I few months ago I published a post about adding kids playroom storage ideas into my home as well as a similar post on kids bedroom storage. A lot of people loved the posts so I decided to do a bathroom version as well!
I scoured the internet looking for some of the best tips and kids bathroom design inspiration, and I have finally put together my compilation.
Whatever the size of your child's bathroom; today I've collected all kinds of awesome ideas for how to tackle the mess and get one of the most utilized but taken for granted spaces an overhaul of organization!
As I said earlier, I did a lot of research and Pinterest was also a great source. If you love it too and are looking for even more kid's bathroom decor or ideas, then check out my Pinterest board on Bathrooms and follow my account on Pinterest for more ideas!
–
Tips On Keeping Your Kids Bathroom Clean with Their Help
Here are a few tips for keeping the kids bathroom organized! And if you are really serious about it, download the kid's bathroom cleaning checklist printable from Early Bird Mom.
The bathroom is such a highly utilized but also easy to mess up, so I couldn't just write a post on bathroom design and storage ideas for kids and not include cleaning tips. Also, if you want additional tips on getting the kids to help clean up, visit my post on the best preschool clean up song list as well. Enjoy!
Take it step by step! Since my kids are young, I started with simple tasks first. Things like putting away their toothbrush and making sure they didn't leave pee on the toilet was a good start lol.
Don't give the kids toxic and/or harmful cleaners. This is an important one. I probably don't need to say that using toxic chemicals as a kid isn't recommended. I use some vary effective non -toxic chemicals that I get sent to my home just so the kids can help me clean 🙂
Give lot's of praise. Praise goes a long way with kids in any situation. Feeling good about what they are doing always helps with willingness!
Put bathroom cleaning on a schedule. How can they argue with you when it's on the schedule? Okay they can but it won't be as effective lol.
Divide Responsibilities. If you have multiple children sharing a bathroom, dividing responsibilities can be a great day to lessen the load so the kids are done quicker, which is always a great thing.
Clean Consistently. This one is obvious but I had to include it. A consistent schedule means less work during each cleaning. And hopefully less work means less resistance for you!
–
We hope you like the products we recommend. Just so you are aware, Keep Toddlers Busy may collect a share of sales from the links on this page. As an Amazon Associate I earn from qualifying purchases. Read more about our links in my disclosure policy.
Kids Bathroom Ideas!
Kids Bucket, Jar, & Basket Storage
–
1. Hanging Bathroom Clothes Basket
My kids need this so bad. I go in the bathroom and clothes are thrown just everywhere. Due to the possibility of water on the floor at any point in time, I think this idea is awesome! Great idea from The DIY Mommy.
2. Door Racks and Containers
I love to use the closet door racks and containers for bedroom organization and I think they are an even better idea for linen closet organization and added storage! So much awesome storage. Even a cloth rack would work for me.
–
3. White Bath Tower
What a great idea by Crate&Kids! Check out a very simple way to organize towels and whatever you like in your kids bathroom.
4. Whale Toy Container
So in love with this adorable way to keep bath toys in one place! The whale pod color is awesome and perfect for kids!
–
5. Three Tier Wire Tray
This isn't exactly for kids but I think it would look great with some bright colors thrown in the mix for kids! It's such a great way to store and organizes things in a little space. Find this look here.
6. Animal Storage Jars
Such a great way to store essentials and display toys. I have seen it before and I'm always floored by this. Grab a few of the kids animals toys , some jars, gorilla glue, and some paint!
7. Mason Jar Wall Organizer
This is such an awesome idea. You can find mason jar organizers readily, but I'll keep an eye out for the one that has the word brush on it.
8. Suction Cub Shower Caddy
So organized and filled with bathroom goodies. Perfect! If you don't have a built in shelving, use these similar bathroom suction cup accessories.
9. Colorful Suction Hangers
Another favorite that is sure to please the kiddos. These simple hangers are so easy and so customizable! Shop the look here!
10. Blue Polka Dots with Draw Storage
This is another one of my favorites. Great storage that looks good and has so much storage for kids! Check out this vanity storage here and the blue polka dot wallpaper here!
–
11. Bath Tub Toy Rack
Perfect for the little ones if you just have a few toys that they like to play with in the tub. I have a similar toy rack that I use in my tub.
–
12. Ikea Hack Bucket Organizers
I love this IKEA hack and have mentioned it in other posts! You can also find the rail here, buckets here and the longer buckets here.
–
13. Three Tier Tin Tray
Here's another three tiered storage unit in a tin material. I'm starting to see this style more and I like it.
–
Kid's Bathroom Hook, Wall, and Hanging Designs
14. Picture and Hooks
–
This is a cool hook idea that will cut down on the "Who's towel is this?" debate. I love the cool wall decals as well 🙂
15. Handmade Home Bathroom
This is gorgeous, I love it. The color is great for kids and there are awesome hooks and vanity storage!
–
16. Iron Letter Hooks
–
17. Tic Tac Toe Shelf
Love this fun Tic Tac Toe Shelf! The perfect combination of simple, colorful and cute. Perfect for a kid's bathroom.
–
18. Superhero Hooks and Shelf
–
This is a great idea. You can find the towel colors anywhere and a similar hook structure can be found here. I also found the city decal!
19. Wall Spice Rack Shelves
This rack under the mirror is such a great idea. I have seen this rack used in kitchens, playrooms, and bedrooms. Why not add the bathroom?
–
20. Wash Your Hands and Hooks
When you are talking about kids, any decor that involves reminders is a good thing. Washing your hands is absolutely essential so adding this to some wood hooks to store and organize your towels is an awesome thing!
21.Metal Shelf Racks
–
This look is so creative and fun, just to adorable. Check out the how-to at LollyJane 🙂
22. Towel Rack Wall Shelf
I love this idea because it serves multiple purposes! You can hang your child's towel, store essentials, and add color wherever you like.
-F
23. Wall Box Name Storage
–
This is such a clever little idea! If you have the space for it, I could see this going on the wall next to the sink. Awesome for kids.
–
24. Multi-Colored IKEA Tisken Hooks
Is this cute or what? 🙂 If these suction hooks are your style, Check it out! (colorful is pretty much most kid's style). Head over there to IKEA to get a 4 pack for $10!
HGTV Inspired Kid's Bathroom Designs with Storage
25. Styled Open Storage Shelf
–
Wow this storage shelf was styled so beautifully. You can take something very simple and just make it gorgeous and top notch. How cute would this be for a child? Apparently Hobby Lobby has a line with all of these gorgeous features like the shelf and towel hooks.
26. Bathroom Basket
–
Clothes baskets in the bathroom are and absolute necessity for my sanity. That is all. Oh and isn't this bathroom beautiful?
–
27. Toilet Wire Basket
Taking a little break from color with this one. I love black and white, so throwing in a little color to make it kid-friendly would be a cinch. I love the basket on toilet that can literally hold whatever you like.
I would throw some bath toys in and add a little color to the counter for parents that want to keep a cohesive look throughout the house and in the kid's space.
28. Target Ladder and Bathroom Set
Okay come through Target! I love this cute arrangement. It's perfect for young toddlers. You can find the collection here.
29. Gorgeous Navy Blue Baskets
I get excited when I see basets. I just do lol. The navy blue color, love! If you have built in space, or even if you don't, try this look!
30. Personalized Buckets and Towels
This is super cool. Find a great place for personalized items and you can piece it together however you like!
Shared Bathroom Organization
31. Boy Girl Door Racks and Towels
This rack and personalized towel set is perfect for a male and female shared bathroom 🙂 You can find the line at Pottery Barn.
32. Pictures and Hook Shelf
What a gorgeous idea for a kids shared bathroom. Light and airy look with a unique spin to the towel hooks. You can find a shelf with built-in frames or just find a hook shelf and some white frames to stick on top.
33. Multi Kid Toothbrush Holder
34. Multi-Colored Letters & Hooks
If you look at the previous idea (#33), you can see this backwards in the mirror! A great idea for multiple names. A cute idea for kids! Get whatever hooks you like and stick some letters on top!
35. Pegboard and Hook Storage
A Unique and easy way to organize your children's bathroom! You can hook as many kid's towels as you need easily.
36. Bathroom Towel Shelf
If you have the space, you can't go wrong with a structure! Green seems to be IN. Gorgeous. Design how you want it!
Unique Boy and Girl Bathroom Solutions
37. Giant Clothes Pin Hooks
This is so unique and a cute idea! I think older kids would really enjoy this unique way to store towels! Shop the look here.
38. Dinosaor Toy TP Holder
Haha I had to include this unique toilet paper storage idea for a toddler bathroom 🙂 The great thing is it may cost you zero dollars and you will clean up some toys!
39. Pull Out Rack
This is actually a pretty sweet set up for kid's storage under the sink vanity. I didn't realize you could buy these kits but being able to pull it out is gold. Check it out here.
---
Pssst.. Looking For More Ideas?
---
40. Whale Tail Hooks
This look is whimsical and beautiful! I want them. That is all.
41. Gold Animal Jars
In love with this DIY project. So easy and such a great result. Find the how-to at Oh So Lovely Blog.
42. Ocean Waves Towel Hook Storage
Gorgeous! Find the beauty here dude!
43. DIY Lego Soap Dispenser
A simple and fun addition to any bathroom!
44. Toothpaste Storage and Dispenser
I couldn't leave out this unique little gadget. Perfect for younger kids who can use some consistent toothpaste spreading help lol. I found it here.
45. "Towel" Fish Hooks
These hooks are so perfect for a rustic look in the kid's restroom. After some searching I found this beauty here.
46. DIY Dinosaur Towel Hook
A great idea for the adventurous kids! I'm pretty sure this is a DIY so I found a dinosaur head for you lol.
47. Moby Corner Toy Organizer
Cute and useful. That's all we need for the kiddies. I found it here!
48. Pegboard and Metal Containers
Great idea! I'm pretty sure this is just a Target run!
49. DIY Shower Rack and Baskets Organize
50. DIY Shower Caddys
The bathroom is such a highly utilized and quickly unorganized part of child's life so I hope that you were able to get some great ideas and I truly hope that you enjoyed this list.
I personally plan to incorporate some of these ideas on a rolling basis. I think some will be better while the kid's are young, and some may be a little better utilized once the kids are a little older.
Do you have any other ideas that you think I should add to the list? Please let me know in the comment section below! It's not the easiest thing searching for kid's bathroom ideas I've come to find out so any bit up advise is gold.
Also, remember to sign up for your FREE weekly activities planner on the top or the right side of the page and check out my printables page!