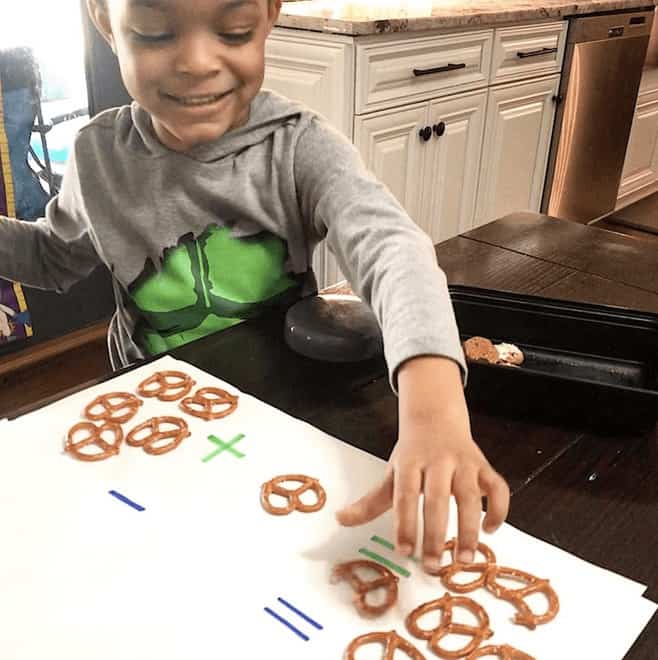 Preschool Math Activity: Snack Math!
–
Hello There! Welcome to my site. Today I thought I would share a super fun idea I completed with my son the other day! A preschool math activity that kids will really have fun with is not always easy to come up with, so when I got this idea, I thought it would be nice to do a quick post.
I love talking about crafts and sharing ideas on how to make learning fun and simple, so if you want even more great finds, check out my posts on inspiring your child to love learning and a great post on learning boards.
–
Simple Math Preschoolers Will Love
–
So this is obviously not rocket science, but this is what we did to complete the activity!
I grabbed one of my larger sized blank pieces of white paper. ( I would use a larger white paper to make it easier. The more space you have for snacks, the better)
I drew out an are for addition and subtraction. Be sure to leave enough room for the snacks and enough room after the equal sign.
Then I had my son pick the snacks to use! (soo optional, I was ready to take over if he didn't pick the right snacks lol)
Then I proceeded to set up equations and have him answer them in snacks. He also began making his own equations. Check the video below 🙂
That's it. Be creative and have fun!
Take a look below!
–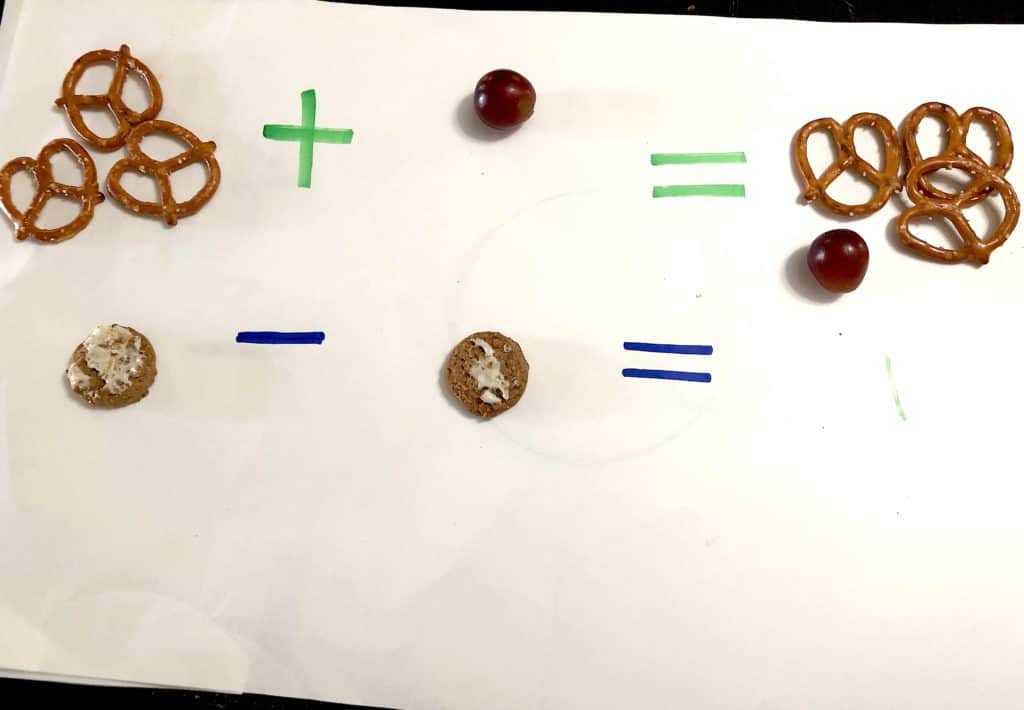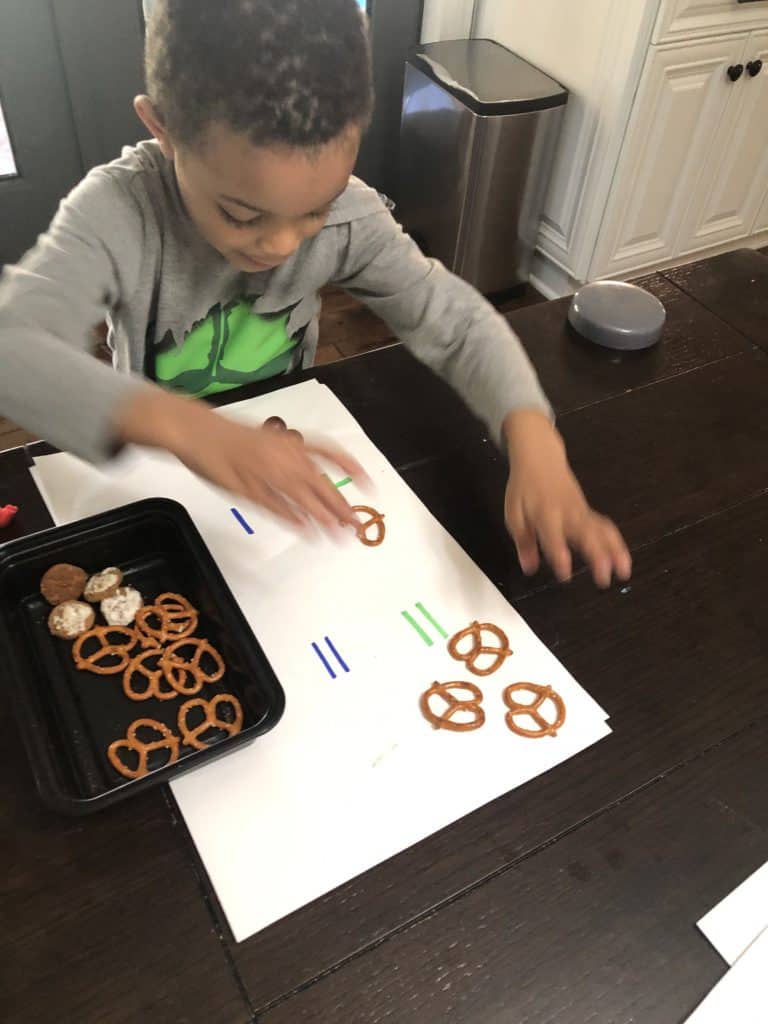 –
We hope you like the products we recommend. Just so you are aware, Keep Toddlers Busy may collect a share of sales from the links on this page. As an Amazon Associate I earn from qualifying purchases. Read more about our links in my disclosure policy.
You know everyone is having fun when you end it with the family hand shake! This is what memories are made of. Take a look!
–
–
–
I hope you enjoyed this easy preschool math activity that I think your kids are sure to love. I also hope that it gave you some great ideas for other projects! It's not easy to always have crafts and new learning experience at your finger tips, and now that many of us are home with ours kids everyday with nowhere to go, I hope you get a chance to enjoy the times, instead of worry about what you should do next with the kids!
If you are looking for more children's math activities, get some great math printables from PreKinders as well!
–
---
Want More Ideas? Check out this Awesome Video w/ Interactive Math Game for Children
–
---
–
This simple ideas is definitely a favorite in my house! Do you have any other ideas that you think I would be great for fun learning? Please let me know in the comment section below! I would love to hear from you!
Also, remember to sign up for your FREE weekly activities planner on the top or the right side of the page and check out my printables page!
–
–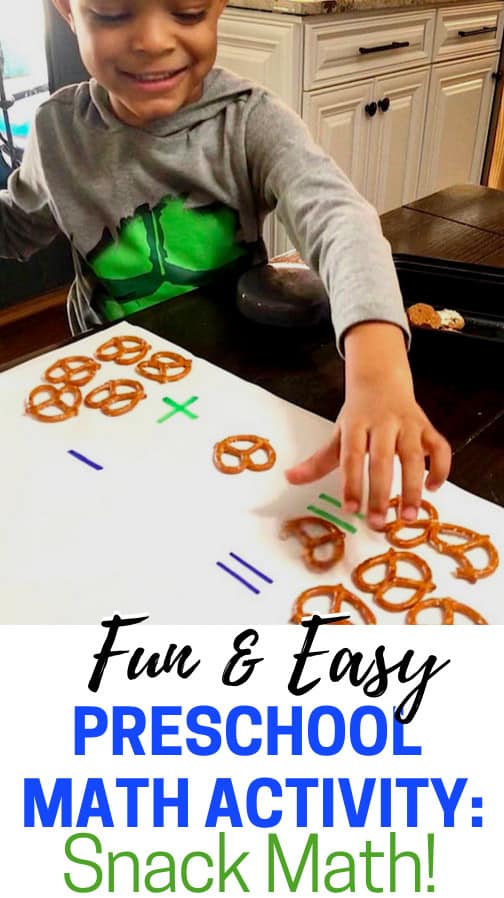 –
I've been an activity mom for almost 9 years and have over 15 years of experience crafting, writing, and creating. My mission is to bring fun, balance and learning to your busy homes with activities, tips, inspiration, and organization!