Spooktacular Abstract Halloween Art for Kids
---
Awesome Halloween Art For Kids Is A Must Have For the Season! There Is Nothing Young Kids Love More Than Messy Projects That Allow For Creativity and Fun. This Monster Eyes Silly Craft Is Easy Enough For Young Kids But Also Fun For Older Kids Too.
There is something great about abstract art for kids. I mean most young kids pretty much do abstract art on all of their projects (well at least mine do), but it's super fun to watch them be creative when they know that they have the freedom. The kids had a great time with this activity.
Like any of my kids projects, this particular craft took about 10 minutes to set up and has medium difficulty. I also took time to help guide my kids just a little bit, then allowed them to do what they wanted with the colors and decorating.
I hope you enjoy the craft and please leave a comment if you have any questions after checking out the setup!
If you love fall activity ideas, check out my recent posts on Halloween Crafts for Kindergarten or our giant scarecrow Fall Craft for Kids! Also, head on over to Pinterest and follow me for daily updated craft ideas and much more!
Halloween Art For Kids
Halloween Art Project Materials
Large roll of Brown Paper. I usually buy three or four at a time because they can be used for sooo many things but you can get thicker rolls online here.
2. Washable Paint for Kids- My favorite brand is Crayola washable paint.
3. I use paint tape to hold the brown paper down AND on the white canvas because it comes up easy and doesn't leave residue behind.
4. White thin Canvas for painting.
5. Art smocks of art bibs for the kids. I currently use this smock but I'm looking to get one with sleeves like this one. Or just throw on an old shirt!
6. Goggly Eyes
7. Glitter glue, markers, regular glue, glitter
8. Craft Tray
9. A bowl for the water, paintbrushes, and napkins to wipe off the paint brushes.
We hope you like the products we recommend. Just so you are aware, Keep Toddlers Busy may collect a share of sales from the links on this page. As an Amazon Associate I earn from qualifying purchases. Read more about our links in my disclosure policy.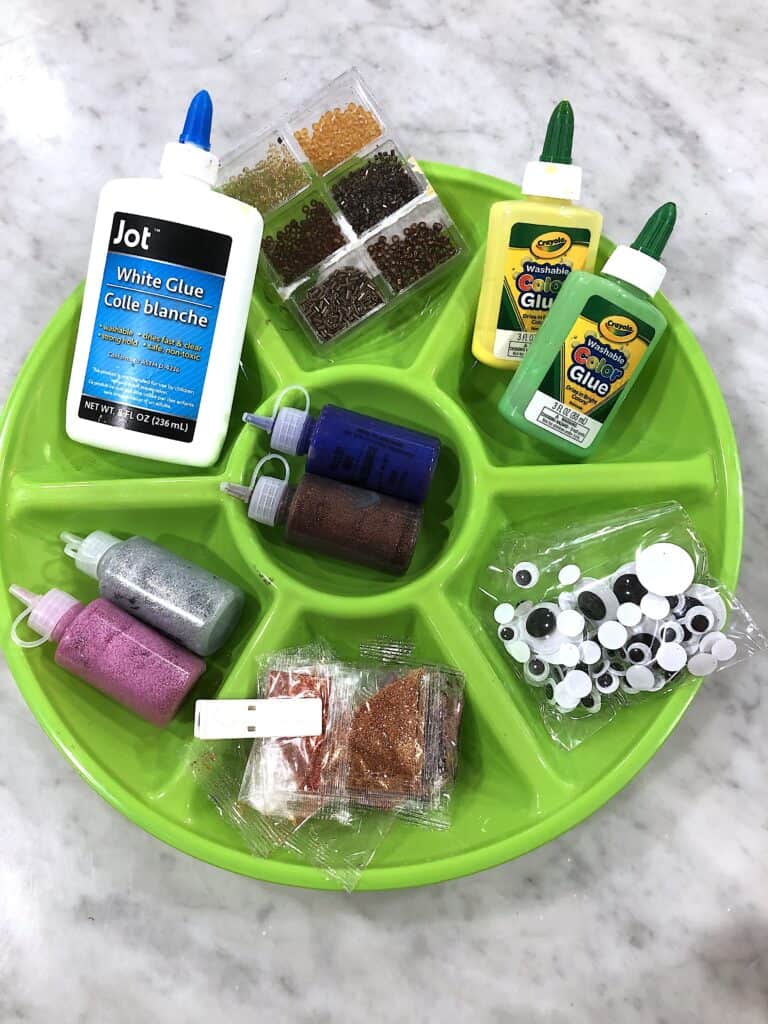 Halloween Arts and Crafts Setup
1. Gather all materials! These are super fun and messy materials so this step is important to do alone if possible!
2. Prepare an area with butcher paper or some sort of barrier. Again, he paint and glitter is messy! Also use this time to prepare the canvas with strips of tape. Later you will pull the tape once the paint and glitter dries.
3. Allow the kids to start painting their hearts out! Save the glitter and other supplies for the next step.
4. Add the glitter glue!
5. Add the eyes, beads, and whatever else you can think of to add!
6. Allow your child's art to dry thoroughly.
7. Remove the paint tape from the canvas.
8. Done!
–
Take a look at the pictures below to see what we did and how it turned out!
Before you do, check out another October on my Instagram page and be sure to follow!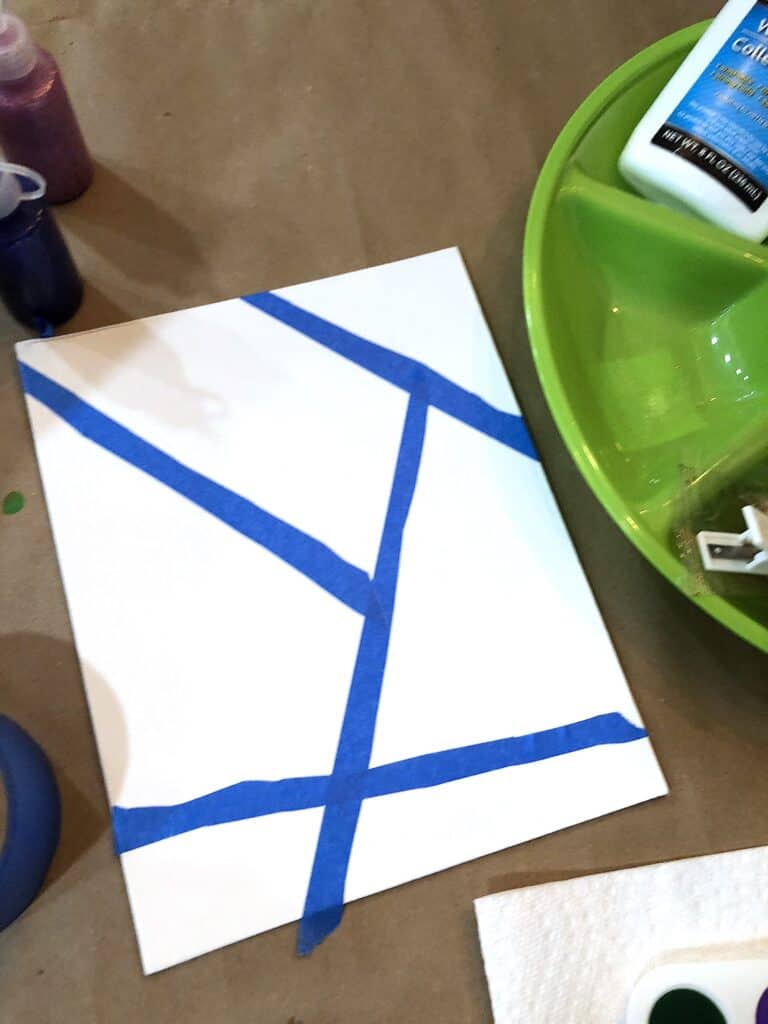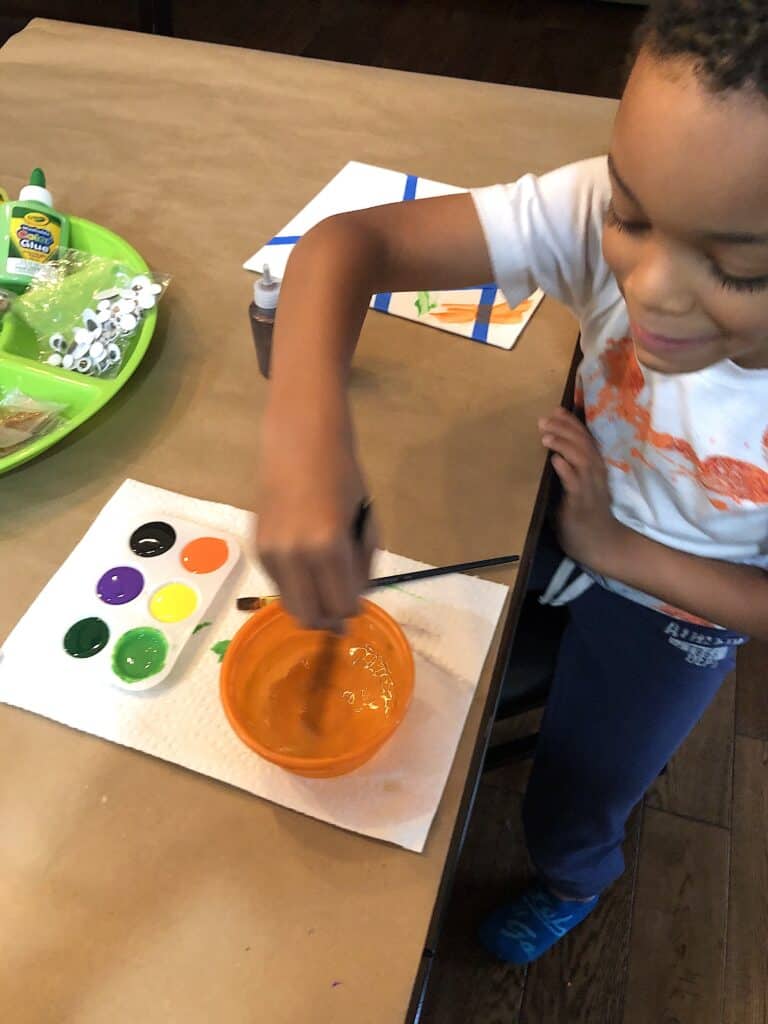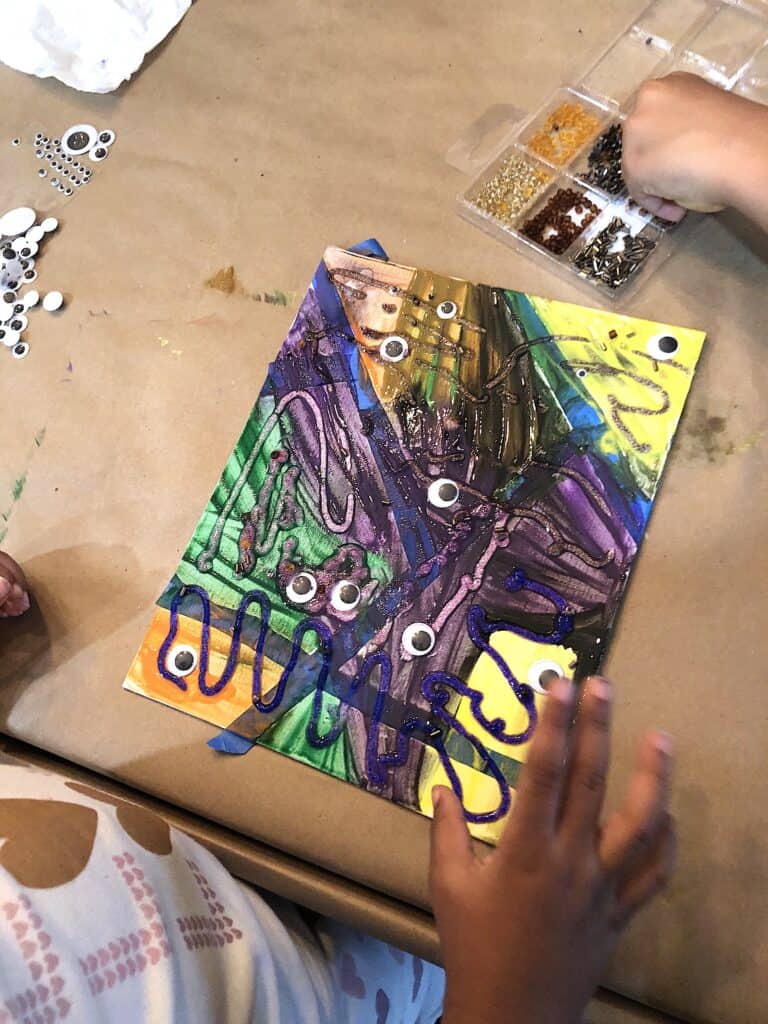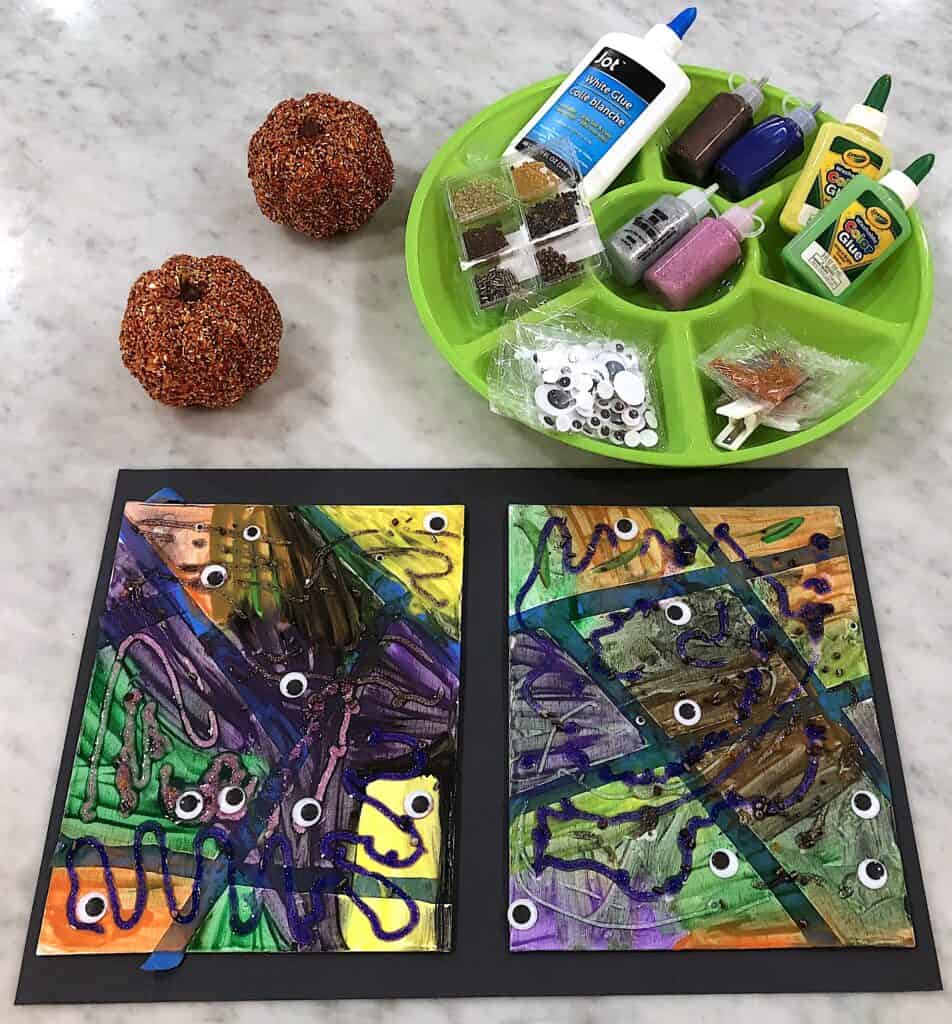 ---
For More fun, check out this video!
---
I hope you enjoyed this fun Halloween abstract art for kids! I wanted to try something different and I think we achieved that LOL. We were pretty happy with the way that it turned out! If you have already started your fall crafts, please share below. Or let me know if you try this one!
Also check out my post on fun Halloween crafts for kids for more fun ideas! Easy Peasy and Fun also has amazing Halloween craft ideas for kids.
Also, remember to sign up for your FREE weekly activities planner on the top or the right side of the page and check out my printables page.
I've been an activity mom for almost 9 years and have over 15 years of experience crafting, writing, and creating. My mission is to bring fun, balance and learning to your busy homes with activities, tips, inspiration, and organization!