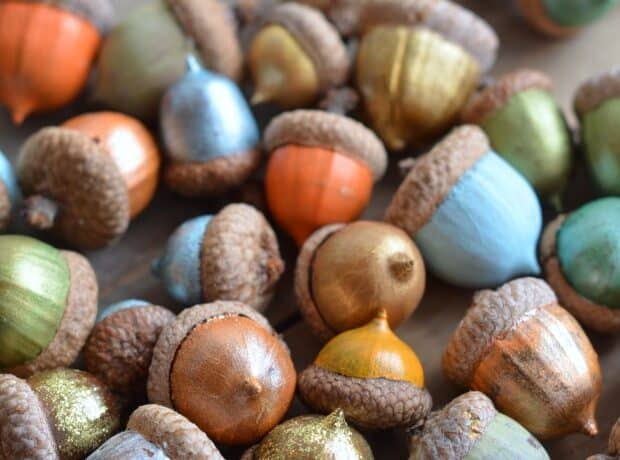 18 Awesome Fall Decorations Your Kids Can Make At Home
---
Are you looking for awesome family Fall decorations you can make at home with the kids?? Well you don't want to miss these!
I love Fall. So so much. I just do. Pumpkin spice, weather, sweaters and boots, and the anticipation of the upcoming holidays. I love it all! It's never to early to start getting ideas for this year's holiday decor! I am also a DIY type of mom. I do crafts with the kids for pretty much every occasion but also on my own.
We included some awesome ideas to add some seasonal festivity to your home while providing a fun activity for the kids 🙂
I scoured the internet looking for Fall decorating ideas that I thought were worthy of being included on this list, and doubled as a great DIY too. So take a look below and I hope you get inspired!
If you check out my Holidays page under "Activities", you will also see a post for Fall activities toddlers will love and a scarecrow painting fall craft for kids post as well!
Last thing! I LOVE Pinterest!! Can't say it enough. If you love it too and are looking for family costume ideas, then check out my Pinterest account Costume board and also follow me follow me on Instagram!
Kid- Friendly Fall Decorations
We hope you like the products we recommend. Just so you are aware, Keep Toddlers Busy may collect a share of sales from the links on this page. As an Amazon Associate I earn from qualifying purchases. Read more about our links in my disclosure policy.
–
1. Hang a Painted Scarecrow
This activity is one of my kids favorite fall crafts. It can be hung on a bedroom door or in a playroom! Check it out here.
2. Paint and Glitter Decorated Pumpkins
This is a really simple way to add Halloween decor to your home and it lasts a long time. Grab some mini pumpkins, paint, glitter, and maybe even some eyeballs and let the kids have some fun :)I did the white one lol.
3. Fall Leaf Catcher
What a great idea for quick DIY decorations on the window! Check out this project at the best ideas for kids!
–
4. Easy Paper Strip Pumpkins
So easy, yet so adorable! Check it out at It's Always Autumn
5. Glitter Leaf Garland
I love a little glitter in my seasonal decor 🙂 Get the how-to at House of Jade Interiors.
–
6. Leaf Mason Jar
This is such a cool way to make something beautiful for the Fall season. Check out the how-to at Create Craft Love.
7. Candy Corn Button Ornament
What an awesome project to complete with the kids! You can get a multi-pack of buttons here.
F
8. Coffee Filter Sun Catcher Pumpkins
Now this idea is just adorable and I would love to see these on my windows this September. Check it out at here.
9. Paper Plate Fall Wreath
I love this little DIY idea 🙂 It's like a right of passage for the season! Check out at Craft Corner DIY!
10. Painted Acorns
Another awesome painting idea. Check it out here!
11. Easy Ombre Pumpkin Button Craft
This little project makes the perfect Fall decor addition to the front door or kitchen. Find it at A Cultivated Nest!
–
12. Easy Q-tip Painted Pumpkins for Kids
Perfect for the little ones and super cute. Keep some memory reminders this season and find the how-to at Projects with Kids!
–
13. Washi Tape-Covered Pumpkins
An easy pumpkin activity with a little twist! Plus my kids love tape for some reason lol. Check it out here!
–
14. Mummy Pumpkins
This project is one of my favorites! Take a look at the Country Living idea!
–
15. Easy Fall Tree
–
I'm soo doing this one with the kids! Check it out at Toddler Approved!
16. Candy Corn Pine Cones
17. Sticky Fall Tree
–
With young kids sticky is always best. Yes please! Get the how-to at I Heart Crafty Things.
18. Colorful Hand-Painted Wooden Post Pumpkins
Check this out here!
–
That's it!
I hope you got some great inspiration! For more AMAZING Halloween decoration ideas and crafts, check out my other Fall posts as well and also this awesome post on Halloween desserts!
I hope you enjoyed these ideas and your kids enjoy it as well. Please comment below and let me know some costumes that you have done in the past or plan to do this year! I would love some ideas!
Also, remember to sign up for your FREE weekly activities planner on the top or the right side of the page and check out my printables page!